The potential swindler or stalker panned out to be a "catfish."
But Mark Sundermeier, a retired police officer now investigating for Clark International of Omaha, didn't know that when he took the call from an out-of-town client suspicious of a Nebraska resident she had met through an online dating service.
Seven hours of research later, Sundermeier determined that while his client wasn't in imminent danger, she was the target of a so-called catfish pretending to be someone he really was not. Sundermeier is still monitoring the case to ensure his client stays off the hook.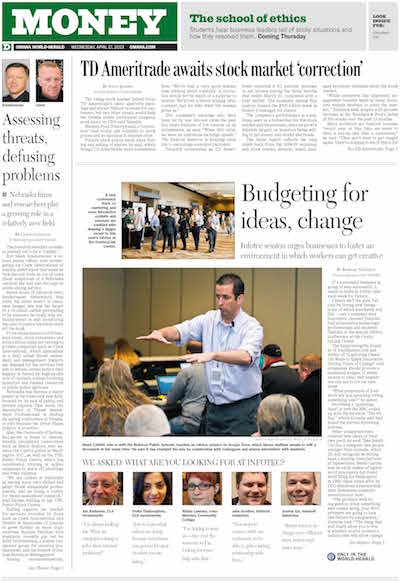 From online daters to rich business titans, more consumers and corporations today are turning to private companies such as Clark International, which specializes in a field called threat assessment and management. Experts say demand for the services that aim to defuse crimes before they happen is fueled by high-profile acts of violence, a thirst for being proactive and limited resources of public police agencies.
Nebraska has become a major player in the relatively new field, boosted by its mix of public and private experts. This week, the Association of Threat Assessment Professionals is holding its spring conference in Omaha, in part because the Great Plains chapter is so active.
Also, the University of Nebraska-Lincoln is home to internationally recognized researchers such as Mario Scalora, who advises the Capitol police in Washington, D.C., as well as the UNL Public Policy Center, which has coordinated training at school campuses to ward off shootings and other violence.
"We are looked at nationally as having some very skilled and adept threat assessment professionals, and as being a center for threat assessment research," said Denise Bulling of the UNL Public Policy Center.
Bulling expects the market for services provided by firms such as Clark International and Nesbitt & Associates of Lincoln to grow further as more organizations become familiar with standards recently put out by ASIS International, a widely recognized group for security professionals, and the Society of Human Resource Management.
Among recommendations, Bulling said, is that organizations consult with a qualified threat assessment professional to complete a workplace violence prevention program.
"That should signal a boom," she said, adding that the national association is working on a certification process for professionals.
Scalora said that today's norm is to have a workplace anti-violence strategy in place.
"You can't just ignore threats," he said. "Holding one's breath is not the standard practice."
While the study of violence is not new, a more formalized attempt to identify troubling behavior and intervene before it escalates emerged in the late 1980s and early 1990s with high-profile stalking and domestic violence cases, said Bulling and Owen Yardley, head of the UNL Police and the local Great Plains ATAP chapter.
The local ATAP chapter formed about four years ago and has about 80 members.
"As more incidents occur around the country, there is more interest," Yardley said.
Scalora said the underlying idea is to prevent damage. A person's behavior might not warrant a police report but could be disruptive or uncomfortable enough to monitor and probe his background.
"In the old days, if somebody made a threat, the cops might show up and say, 'Let me know when the crime takes place or when the magic threat words are said so we can do something.'" With threat assessment, Scalora said, "We're looking at the precursors before it gets to that point. We're not waiting for it to escalate to the point of having to be reactive."
UNL's threat assessment team was assembled in 2001 and, Yardley said, was among the first campus teams in the country.
Private companies providing threat management services are more prevalent on the coasts, but demand is picking up steam locally, said Sundermeier and Dan Clark of Clark International.
"You may think that this is only a famous or rich person problem, but it's not," said Clark, a retired Omaha police detective. "With the flattening of the world through social media, we are seeing a lot of cross-border interstate and international connections being made."
A high percentage of cases tend to be related to domestic violence in the workplace, added Sundermeier, a retired deputy Omaha police chief who later worked on threat assessment at Metropolitan Community College.
"Where once it was sufficient to hire additional security for a few days or weeks, now proactive threat management practices are added to the arsenal," he said.
Clark International has helped area companies by providing armed security and surveillance officers and analyzing threats. Sundermeier said he uses public record searches, social media and other Internet sources to understand a person's history, and consults with a forensic psychologist who specializes in violent behavior.
Sometimes, Sundermeier said, he develops a relationship with subjects, who often have a mental illness or obsession. He recalled a man who thought a high-profile client was speaking to him through an implanted device. Sundermeier let the subject know that he would be the point of contact. The subject seemed pleased to have been noticed, Sundermeier said. Eventually, the subject stopped contacting the client.
Often, Sundermeier develops relationships with people close to the subject who want to avoid harm and can tip him off to suspicious behavior. Rare is the attack, he said, that came without signs.
"You have to be able to put things in context," he said. "To do that, you have to invest time and research."
Access this article in the Omaha World-Herald archives